River City Wild Ones is often a part of community events by having a booth or having a member speak on Native Plants and related topics.
River City Wild Ones members and friends are invited to attend the 6 part workshop
Diversify the Biota
March 18, 24 • April 15, 28 • May 19 • June 2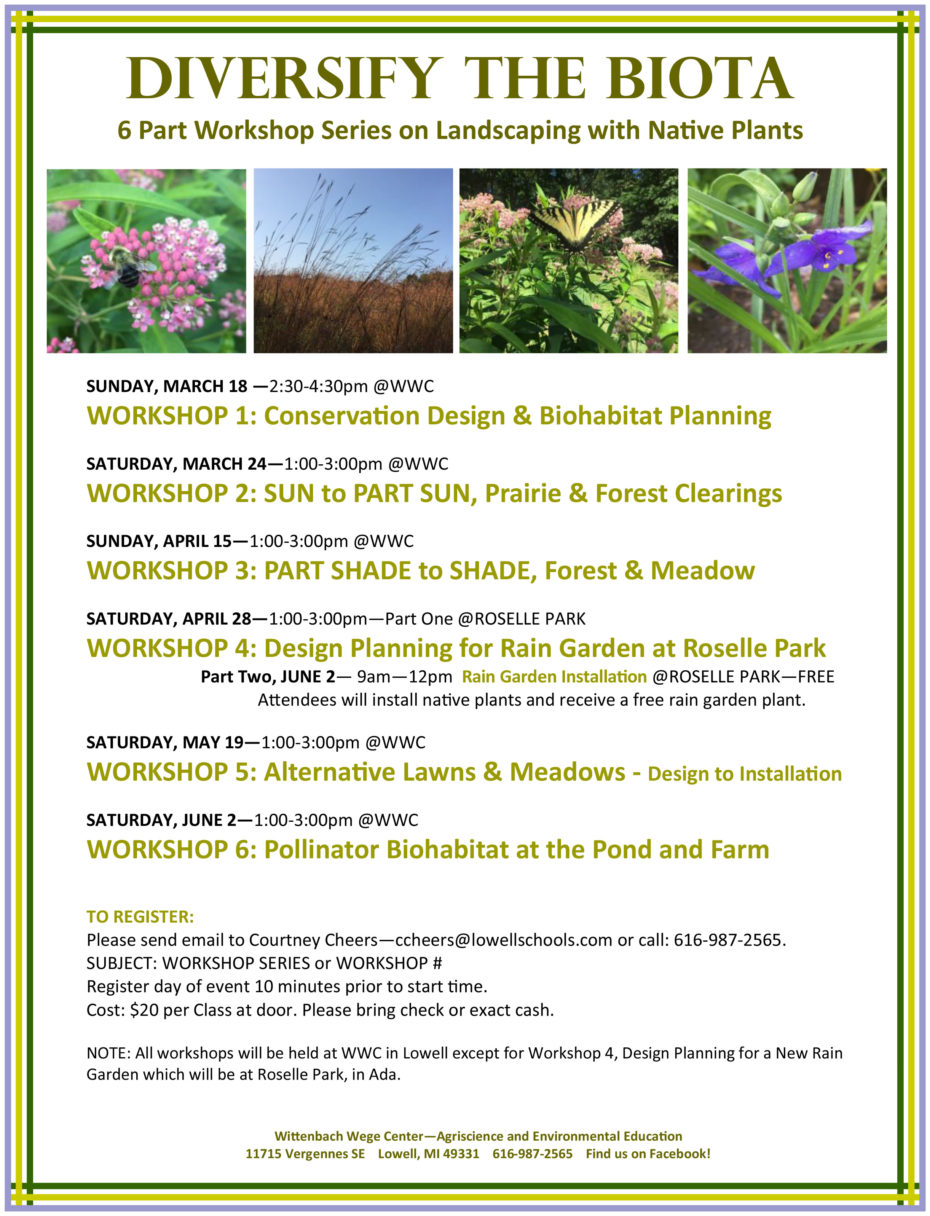 The workshop was developed by RCWO member, Rebecca Marquardt. Amy Heilman, also an RCWO member, will help with some of the workshops. For a complete description of each workshop session and registration information, download the workshop flyer PDF.
NOTE: All workshops will be held at Wittenbach Wege Center in Lowell except for Workshop 4, Design Planning for a New Rain Garden which will be at Roselle Park, in Ada.
Wittenbach Wege Center—Agriscience and Environmental Education
11715 Vergennes SE Lowell, MI 49331
616-987-2565
____________________________________________________________________________
Partner Events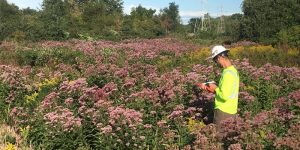 Principles and Tools of Ecological Restoration
(or what to do after you have killed all the bad plants)
by West Michigan Conservation Network
June 11, 18, & 25 • 6–8:30 pm
Grand Ravines County Park North (Session 1)
9920 42nd Ave
Jenison, MI 49428
In our zeal to maintain and restore natural areas, the focus often shifts towards invasive plant control. And while it is true that invasive plants are typically a major threat to the health of our ecosystems, it is important to understand all sources of degradation that impact a site and, ultimately, the desired structure and function of the ecological community. This ecological restoration workshop is a 3-part series with one classroom session (June 11), and two field-based sessions (June 18 & 25). Both the theory and practice of ecological restoration will be discussed. Specific topics will include site assessment, site planning, the establishment of reference conditions, the interaction of plants, water, and soils, and tools for ecological restoration. Terrestrial and aquatic ecosystems will be discussed.
Whether a citizen embarking on a first restoration project or a seasoned practitioner; this 3-part series has ideas, resources, and opportunities for you!
Workshops will be held at the following locations: Session 1: June 11th – Grand Ravines County Park North in Jenison; Session 2: June 18th – Lamberton Lake Fen in Grand Rapids; and Session 3: June 25th – Upper Macatawa Natural Area in Zeeland.
The cost for the 3-part series on June 11,18 & 25 is $40.00 total.
Presenters include Brian Majka, GEI Consultants; Justin Heslinga, Land Conservancy of West Michigan; and Todd Aschenbach, Grand Valley State University.
Register on Eventbrite. Tickets are $40
_________________________________
To see other green community events visit https://www.gardenforchange.org/calendar