Date/Time
Date(s) - 07/16/2018
5:00 pm - 7:30 pm
Location
Native Plant Education Garden
Categories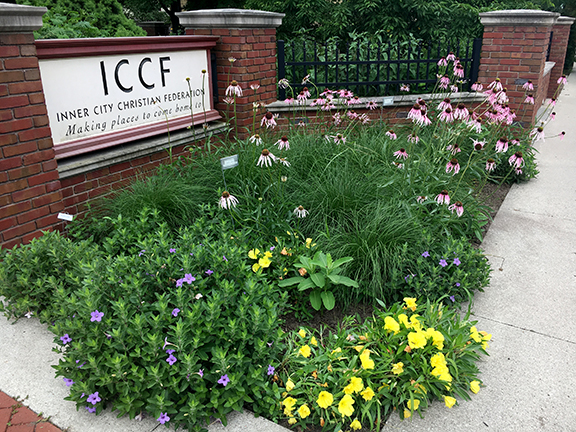 Fifth Annual River City Wild Ones Native Plant
and Pollinator Garden Tour, Native Plant Sale
and Fundraiser at Brewery Vivant
See Michigan?s native plants in a city garden setting, and learn how you can plant your own!
The garden is located in front of the Inner City Christian Federation Building
Native Plant and Shrub Sale
(5 species of shrubs, 10 species of perennials)
Native Garden Experts
Native Plant Education
New this year?native shrubs!
Aronia melanocarpa– Red Chokeberry
Diervilla lonicera– Dwarf Bush Honeysuckle
Potentilla fruticosa – Shrubby Cinquefoil
Spiraea alba– Meadowsweet
Spiraea tomentosa– Steeplebush
10 native perennials that will be offered:
Asclepius tuberosa – Butterfly Milkweed
Aralia racemosa – American Spikenard
Liatris pycnostachya – Prairie Blazing Star
Mitella diphylla – Bishop's Cap
Parthenium integrifolium – Wild Quinine
Penstemon digitalis – Foxglove Beardtongue
Rudbeckia triloba – Brown-eyed Susan
Ruellia humilis – Wild Petunia
Solidago cassia – Blue Stemmed Goldenrod
Symphyotrichum cordifolium – Heart-Leaved Aster
Download the NPEG Event flyer 2018
---
Fundraiser for River City Wild Ones at Brewery Vivant
925 Cherry St SE.
The Brewery will donate $1 to RCWO for every beer sold
during pub hours on 7/16/18 from 3 pm to 11 pm.
Cheers!
---
For sale at the event:
Michigan Shrubs and Vines (Book)
A Guide to Species of the Great Lakes Region
University of Michigan Press, 2016
By Burton V. Barnes, Christopher W. Dick, and Melanie E. Gunn
Price $25.00
The essential reference for identifying shrubs and woody vines in Michigan and the Great Lakes Region
Shrubs and vines are some of the most diverse and widespread plants in the Great Lakes Region. Michigan Shrubs and Vines is the must-have book for anyone who wishes to identify and learn about these fascinating plants. Presented in the same attractive, easy-to-use format as the classic Michigan Trees, the book gives detailed descriptions of 132 species, providing concise information on key characters, habitat, distribution, and growth pattern. Precise line drawings accompany each species description and illustrate arrangement and characteristics of leaves, flowers, and fruits in addition to stem structure to assist with reliable year-round identification. A thorough introduction covers the features and forms of shrubs and vines as well as their natural history, their role in landscape ecosystems, and their occurrence in regional ecosystems of North America and plant communities of the Great Lakes. This long awaited companion to Michigan Trees will appeal to botanists, ecologists, students, and amateur naturalists alike.
?Burton V. Barnes was Stephen H. Spurr Professor Emeritus of Forestry in the School of Natural Resources and Environment at the University of Michigan. He is best known for his love of field teaching and his research and publications in forest and landscape ecology.
?Christopher W. Dick is Director of the Edwin S. George Reserve at the University of Michigan and Associate Curator of the UM Herbarium.
?Melanie E. Gunn is Outreach Coordinator at Point Reyes National Seashore in California.
---
Also River City Wild Ones logo items will be for sale!
---
Photos from the 2017 event below.