Date/Time
Date(s) - 08/19/2017
10:00 am - 12:00 pm
Location
Newaygo Prairie and Karner Blue Sanctuary
Categories No Categories
Note: The Newaygo Prairie is at the corner of 56th St. and Poplar Ave. Please park along 56th St, east of Poplar. We will caravan to the Karner Blue Sanctuary after hiking the Newaygo Prairie.
Presenter
John Bagley, Regional Stewardship Organizer for Michigan Nature Association (Western Lower Peninsula)
Bio: John's early influences in developing his love of nature involve growing up in the country, where he spent his childhood exploring the woods, farm fields, ponds and creeks around his home in Eaton County. He went on to study anthropology at Western Michigan University, focusing on primatology and the ape-human evolutionary relationship. Studying this order of animals brought into clear focus the threats to wildlife and the natural world on a global scale.
Bagley worked in the corporate world until the economic downturn, after which he became involved with conservation work in Michigan. His involvement with conservation work includes surveying for invasive species for the Land Conservancy of West Michigan and work as a seasonal ecologist for the Michigan Natural Features Inventory.
John's connection to MNA goes back to 2008 and includes volunteering in the field, working with college interns, and serving as the steward at Karner Blue Nature Sanctuary. Now, as a regional stewardship organizer, John works with volunteers at MNA sanctuaries across the western part of the Lower Peninsula to complete stewardship projects. In his free time, John enjoys sports, gardening with native plants, fishing and mountain biking. He has lived in Grand Rapids since 2003 and enjoys the city's craft beer scene and many recreational opportunities.
Program Description
John Bagley will lead us on a hike (along with the Kalamazoo Chapter of Wild Ones) to the Newaygo Prairie and Karner Blue Sanctuaries.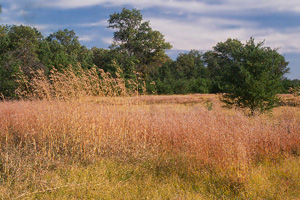 Newaygo Prairie is located northeast of Newaygo on the corner of Poplar Ave and 56th street. It is a great place to visit year round due to the variety of plants that inhabit it. Prickly pear, which blooms in July, is always a sight to see. Over 100 species of prairie plants can be found in the sanctuary, including: foxglove, yellow flax, prairie ragwort, American wild plum and needle grass. Whip-poor-wills in the nearby woods can often be heard singing throughout the prairie in early evening.
This dry sand prairie is a remnant of a complex that once spanned over 19,000 acres in Michigan. Only 4% of Michigan's original sand prairie is left. Native tall grasses and other fire-adapted species thrive here.
Karner Blue Sanctuary is located Brooks Township northeast of Newaygo, this dry sand prairie is a remnant of a complex that once spanned over 19,000 acres in Michigan. Look for the lupine plants and prickly pear cactus that thrive in these dry conditions.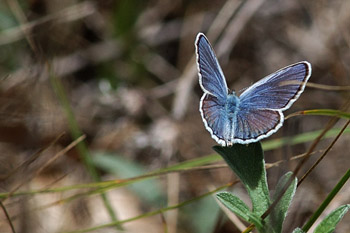 In addition to droughty soils, fire plays an important role in maintaining species diversity and open grassland conditions in this unique habitat.
Note: This is a Saturday event