---
River City Wild Ones
2018 Native Plant Education Garden Tour
and Plant Sale
On Monday, July 16 River City Wild Ones hosted the fifth annual Native Plant Education Garden tour and Plant sale on the grounds of the ICCF building at 920 Cherry SE in Grand Rapids. A blistering hot afternoon turned into a pleasant evening with a slight breeze just in time to welcome visitors into this urban oasis. Visitors were curious about the plants blooming in the garden and many took home potted native perennials grown by Tammy Lundeen of She is Growing Wildand also perennials grown by Vern Stevens of Designs by Nature or potted shrubs grown by Deb Montgomery of Go Grow Plant Natives. Tammy and Deb also answered questions and helped with the sales of the many species of plants.
A very special thank you goes to Amy Heilman, chair of the Garden Committee, who coordinated the purchase of the plants, coordinated with ICCF, organized numerous garden work sessions this spring and summer. Her team included several RCWO members who helped weed, trim, water, mulch and label all the plants. On Monday the garden was visually delightful and allowed our guests to see firsthand how interesting and varied a native plant garden can be.
We are all very grateful to Ruth Oldenburg, our Communication Chair, for promoting the event through beautifully designed posters, informational cards, website information and newsletter announcements. Every visual notice looked lovely and professional. She also arranged for the sale of RCWO logo merchandise that brought in $135.
We appreciate the support of the Inner City Christian Federation (ICCF), their board, administration and ground maintenance staff and especially their willingness to provide space in their front yard for ecologically significant plants. The garden is not only a place to see and enjoy native plants, but an oasis for pollinators and birds in a unique urban setting.
We thank Jonathon Ward and his excellent staff at Brewery Vivant for promoting the event to their customers, finding space in their courtyard for native plants and for donating a dollar from the sale of each beer sold that night, for a total of $618. They are wonderful partners to RCWO.
The members of the River City Wild Ones Board: Marty Arnold, Marti MacArthur, Joyce Tuharsky, Ann Nowak, Ruth Oldenburg, Amy Heilman, Betsy Ford, Nancy Bedell and Mindy Miner provided event oversight and on-the-ground help?from canopies to tables and plant stakes to tablecloths.
An important purpose of the Garden Tour is introducing visitors to native plants and teaching them how to grow them. The Education Committee prepared handouts and created a colorful display of pictures, books and pamphlets. We are grateful to Nancy Bedell, Marty MacCleery, Chris Muldoon, Denise Coykendal, and Sr. Lucille Janowiak for creating a colorful, helpful learning station. Sales of the featured book, Michigan Native Shrubs & Vinesbrought in $545. Nancy Bedellrecommended this valuable resource and coordinated the purchase of the books from the publisher.
Many RCWO members helped with set up, take down, greeting, answering questions, selling plants, check out, refreshments for the workers, taking photos and doing any task that helped make the tour exciting and enjoyable for visitors. The following people deserve special recognition: Gabrielle Tremblay, Eric Piehl, Alan Bedell, Linda Dodge, Madeline Heibel, Jane Henderson, John and Jeanne Van Kammen, Mark Oldenburg, Tom MacArthur, Patti and John Wojtowicz, Patricia Pennell, Anne Medich, Leo Tuharsky, Sue Bouchard, Jack Pruitt, Diane Lange, Sammy Wing, Barb McGuirl and Lea Sevigny. If I have forgotten anyone, I apologize. Everyone?s help was appreciated.

Left to right: The three Marty's?Marti MacArthur, Marty Arnold, Marty MacCleery
Lastly, we would also like to thank Marty Thompson Arnold, RCWO President and author of the novel, Raised in Captivity, for her contribution of the proceeds from the sale of her book at our event which added an additional $100 to the income from the evening.
Our event was a success in every way and could not have happened without the efforts of each of you. Thank you so much! I hope we will work together next year at the sixth annual NPEG Tour and Plant Sale.
Marti MacArthur,
RCWO Vice President and 2018 NPEG Event Committee Chair
---
Editor's note: River City Wild Ones, would like to give a BIG THANK YOU to Marti MacArthur for her willingness to take leadership of this important project and for making our event so successful. Kudos to you Marti!
---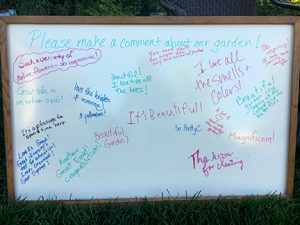 Some of the comments on our whiteboard:
? Great sale in an urban oasis!
? Beautiful Garden!
? So Pretty
? Thank you for creating
? Magnificent!
? I love all the smells & colors!
? Beautiful! I love to see all the bees!
? It's a pleasure spending time here.
? Love the heights & textures & pollinators
? Looks Great! Great diversity & tool for education! Looks organized! Great signage!
? A lot of love went into this beautiful garden!
? So inspiring! I love coming here, thank you!
? Beautiful garden, love seeing all the colors and the butterflies
? Such variety of native flowers?so impressive!
---