By Betsy Ford Maine
On March 20, 2017 River City Wild Ones were treated to a presentation by Shaun Howard of the Nature Conservancy. Shaun earned his B.S. in Zoology from the Lyman Briggs College at Michigan State University. In the summer of 2010, Shaun joined The Nature Conservancy. He is currently the Eastern Lake Michigan Project Manager, coordinating the efforts of The Nature Conservancy and other Michigan Dune Alliance Partners along the 500 mile eastern Lake Michigan shoreline.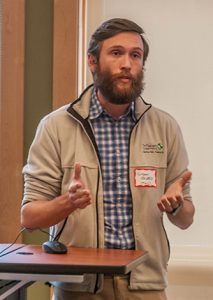 Shaun explained that the Great Lakes Coast is one of the most biologically diverse areas—extending from the Indiana border to the Mackinaw bridge.
He talked about the 3 kinds of dunes:
Perched Dunes – lie atop a high bluff like Sleeping Bear Dunes
Dune and Swale – where wetlands are between the dunes
Parabolic Dunes – U-shaped mounds of sand with convex noses trailed by elongated arms, like those in Saugatuck
Using his own beautiful photos, Shaun introduced the group to the native plants of this unique habitat like and described the efforts to save these plants and eliminate invasive plants which threaten them. Pitcher's Thistle is one native plant that only grows in Great Lakes dunes.
Howard talked particularly about the invasives, Blue Lyme Grass, Giant Knotweed, Kudzu, and Baby's Breath and the methods they use to control them.
Shaun left us with a lasting impression of the importance of the work of The Nature Conservancy and the Michigan Dune Alliance as well as the addresses of some indispensable websites.
Useful links: